Item No. 10

Supplementary Agenda (Open Portion)

Community, Culture and Events Committee Meeting

Page 4

6/3/2019
REPORT TITLE: The Taste of Tasmania Post Festival Report
REPORT PROVIDED BY: Director Community Life
Festival Director - Taste of Tasmania
1. Report Purpose and Community Benefit
1.1. This report outlines and evaluates The Taste of Tasmania 30th Anniversary including the important, new initiatives and significant developments that were implemented and delivered in 2018–19.
1.2. This post festival report reflects The Taste of Tasmania festival that had a total subsidy of $1.6 million. This subsidy of $1.6 million includes $71,000 for the New Years' Eve fireworks.
1.3. This report details the achievements that were enabled due to the increased level of investment whilst also discussing the challenges and recommendations for future years.
1.4. In 2018–19 Taste festival with support from State Growth, conducted a full economic benefit study. SGS Economics and Planning were engaged along with local contractors, Myriad Consulting.
1.5. This post festival report largely references the economic benefit study along with reflecting considerable internal and external debrief discussions. The full economic benefit study is attached to this report as Attachment A.
2. Report Summary
2.1. In June 2018, the Hobart City Council committed to a 'one-off' $400, 000 increased level of investment; a total subsidy of $1.6 million to fund the 30th Anniversary of The Taste of Tasmania. This subsidy included the New Years' Eve fireworks at a cost of $71,000.
2.2. Whilst this increased level of investment was granted on a 'one time only' contingent, the original recommendation clearly outlined that this level of subsidy was the amount required to deliver a food and wine festival that had statewide significance. More than this, the emphasis was on The Taste festival being able to succeed commercially.
2.3. Council granted this increased level of investment in recognition that the 30th Anniversary was an important milestone and that there were high-expectations in the community that needed to be realised. This increased level of investment was important to ensure future brand success and credibility of The Taste festival.
2.4. To ensure The Taste of Tasmania festival continues to meet the high expectations of the community and to be both relevant and contemporary within the festival space locally, nationally and internationally, the recommendation is that the Hobart City Council commit to an in principle, on-going level of investment of $1.6 million, including the firework celebrations for New Year's Eve for three years.
2.5. This long-term commitment will enable a strategic plan to be formulated and implemented with the outcome of The Taste of Tasmania festival increasing its own generated income thereby reducing the level of investment required by the Council to support the festival.
2.6. This report proposes a model for achieving this funding outcome however there is a risk with the level of state government support as at this time there is no firm commitment or guarantee of this funding from the state.
2.7. It is critical to point out that if the total overall level of investment is less than $1.6 million, there will be varying degrees of impact to the festival that have the potential to dilute many of the important initiatives that took place in 2018–19.
That: 1. The Council resolve to commit to a three-year in principle budget for The Taste of Tasmania of $1.6 million annually.
2. This proposal is contingent upon:
(i) $1.02 – $1.27 million direct Council investment.
(ii) $250,000 - $500,000 cash grant from the Tasmanian Government.
(iii) $80,000 PW1 hire fee waiver.
3. The Council delegate to the General Manager the full operational responsibility for the delivery of The Taste of Tasmania including the setting of all fees and charges pursuant to section 22 of the Local Government Act 1993.
4. The General Manager be authorised to finalise discussions with the State Government concerning on-going funding for The Taste of Tasmania as soon as possible.
5. The Council to be advised of the outcome of those negotiations.
6. At the conclusion of three years the General Manager undertake a full review of The Taste of Tasmania and report back to the Council accordingly.
4. Background
4.1. The Taste of Tasmania is the oldest and largest food and wine festival in Australia. In 2018–19 The Taste of Tasmania festival celebrated its 30th birthday anniversary. The festival ran from Friday 28 December, 2018 until Thursday 3 January, 2019.
4.2. The Taste of Tasmania 30th Anniversary festival was overwhelmingly successful; generating exceptionally positive feedback from the local, national and International community of visitors.
4.3. In 2018–19 Taste of Tasmania had an overall attendance of 263,000. The highest recorded attendance in its 30 year history. This number reflects an increased attendance of approximately 43,000 on 2017–18.
4.4. Myriad Consulting in collaboration with SGS Economic and Planning reports the following:
The Taste of Tasmania is predominately visited by Tasmanian residents. Tasmanian residents accounted for 60% of visitors in 2018–19. Interstate patronage of the Taste though has been increasing, growing from a patronage share in the mid-twenties at the start of the decade, to the mid-thirties by 2018–19.
Of the 263,000 attendance, the place of residence is broken down and listed below: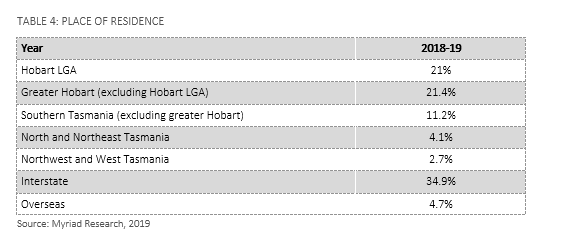 4.5. The above tables highlight an increase of visitors from Interstate.
In 2018–19 over 35% (over 1/3) of the total audience visitation travelled from Interstate. The majority of the audience, 60% in 2018–19 is Tasmanian and broken down even further, 21% of the total audience are identified as being from the City of Hobart Local Government Area (LGA)
4.6. With this increased level of investment that was granted in June 2018, the 2018–19 Taste of Tasmania festival program introduced several new and important initiatives to the festival: A full detailed analysis of each element of the program is listed below.
4.7. 'greener grass'
4.7.1. Located in Parliament Lawns, 'greener grass' was introduced to engage more specialised, smaller producers; celebrating a true diversity of food and beverage offerings within the curated festival program. More importantly, it created opportunities that encouraged and incentivised new and emerging businesses.
4.7.2. Much like an incubation program, 'greener grass' was sensitive to the fact that new and emerging producers had limited or no experience trading in a festival environment. New stallholders were introduced to long standing stallholders, much like a mentorship program.
4.7.3. 'greener grass' was a dynamic model and provided the option of trading for 3 days, 4 days or the full 7 days depending on the level of each business's capability and resourcing.
4.7.4. A total of 22 new and emerging businesses were engaged. 'greener grass' featured a diverse variety of foods with an emphasis on multi-cultural foods. Notably, the Migrant Resource Centre (MRC) was invited to be a stallholder in 'greener grass' ahead of their official café launch in 2019. This opportunity was a training ground for the MRC. Being a dynamic space, there was 14 stallholders on any one day.
4.7.5. Entrance into 'greener grass' took place through a combination of and Expression of Interest (EOI) process and much work needs to be done to extend and strengthen this process in future years.
4.7.6. Whilst the Taste team and City of Hobart divisions were incredibly generous and supportive, more resourcing is required to ensure that stallholders are educated and informed on how to best run a business in a festival environment. Topics such as staffing, menu offerings, financial accounts, health and safety. 'greener grass' has extraordinary potential and there is merit in running a formal incubation process year round.
4.7.7. Hosting 'greener grass' in Parliament Lawns was challenging and expensive as there was limited infrastructure such as electricity and plumbing. Irrigation on Parliament Lawns was inadequate and problematic.
4.7.8. 'greener grass' had a total cost of $210,000 including a dedicated festival food curator to support the delivery of this initiative. 'greener grass' was only possible due to the increased level of investment from Council. The Tasmanian Government further contributed $20,000 in support of this new initiative. This $20,000 supplemented $80,000 in-kind support from the state government.
4.7.9. For the first time Parliament Lawns had been granted a liquor license, but again, this proved problematic as the high level of compliance required fencing to be placed around the boundary of Parliament Lawns which sectioned off 'greener grass' from the rest of the festival footprint.
4.7.10. To encourage more foot-traffic to 'greener grass' the music and entertainment programming was moved from various stages within the main footprint onto 'greener grass'.
4.7.11. It was expected that there would be considerable learnings after the first year of this initiative. The majority of stallholders involved saw immense benefit from this opportunity to showcase their business in front of a large audience. Encouragingly, The Taste has received several emails from emerging businesses around the state asking to be considered for future years.
4.8. The SMEG Culinary Kitchen program
4.8.1. Recognising that the core of The Taste of Tasmania festival is a food and beverage festival, The SMEG Culinary Kitchen program was a new initiative featuring a ticketed program of 29 events;
4.8.2. Conceptually, the SMEG culinary program had three strategic aims:
4.8.2.1. Positioning The Taste of Tasmania festival as 'a world class' food and beverage festival for the state of Tasmania whilst giving the festival a point of difference from other like-minded festivals in Tasmania.
4.8.2.2. Creating additional revenue streams with a long-term strategy that in three – five years' time, The Taste festival can increase its own generated revenue streams and reduce the amount of funding from the Council.
4.8.2.3. Engaging with a culinary audience, both locally and interstate. It has previously been identified that the brand of The Taste festival had been in a sharp decline over the past five years and as such, alienated the large culinary demographic. So, in the process of rebuilding The Taste brand and restoring its credibility, it was important to engage with this "new" audience and "bring them back"
4.8.3. As part of the concept of the SMEG Culinary Kitchen, significant consideration was given to the programming to ensure that the wider community could access the program and the culinary kitchen program was not considered "exclusive".
4.8.4. The 29 ticketed events featured a combination of fine-dining banquets, masterclasses, hands-on cooking demonstrations and in-depth discussions lead by chefs, farmers, distillers and culinary influencers from all areas of Tasmania with the aim of "telling the story of Tasmania" through these events.
4.8.5. The capacity for each event varied in accordance to the nature of the event and the chef's own limitations. However, a concerted effort was made to maximise revenue whilst balancing the need for intimate experiences.
4.8.6. Principally, the masterclasses could accommodate up to 28 people. The fine dining events could accommodate up to 70 people. There were also several events such as 'Nick and Matthews Community Breakfast', 'Beer Fest' and Sarah Glovers 'In The Wild' that were placed on the forecourt and could accommodate up to 300 people.
4.8.7. For its first year in existence, The SMEG Culinary Kitchen program was an incredible success when considering all measures: financial (expenses and revenue), customer satisfaction, talent satisfaction and the effects it had on the culinary and wider community.
4.8.8. The total percentage of tickets sold was 82.35%, exceeding box office targets that were set at 80%. Over 1600 people bought tickets to the SMEG culinary program. This translated to a total revenue of $114,360 with the total potential revenue of $138,860.
4.8.9. The average ticket price (ATP) was approximately $97. It was an important consideration to keep the ATP under $100, particularly in the first year, to not only build the brand but ensure maximum accessibility for the community whilst balancing it with expenses. The entry level price for tickets into the program was $30 and the top ticket price was $160.
4.8.10. A total of two complimentary (comp) tickets were assigned to the majority of events. Comps were held exclusively for media and PR use to encourage media coverage. Strategically, this was important for the brand of The SMEG Culinary Kitchen as well as exposure for festival partner, SMEG. Where media did not use or collect tickets for an event, comp tickets were either assigned to festival sponsors or put back on-sale to the public.
4.8.11. The SMEG Culinary Kitchen cost approx. $292,000 including infrastructure, utensils, food & produce, as well as significant resourcing including two x full time staffing positions for four months to organise and implement. This was alongside the required kitchen staffing such as a kitchen manager, Sioux Chef, Front of House Manager, dishwashers and Front of House team required to deliver each of the 20 events.
4.8.12. Over 30 influential and leading chefs, distillers, farmers, producers were involved in the Culinary Kitchen program including Rodney Dunn, Luke Burgess, Analiese Gregory, Adam James, FICO, Templo, Matthew Evans, Bill Lark, Hannah Moloney (Good Life Permaculture), Sarah Glover, Gillian Lipscombe (Sailor seeks Horse), Etties, Natalie Fryer (The Abel Gin Co.) Keira O'Brien (Winemaking Tasmania).
4.8.13. The table below outlines the costs associated with The SMEG Culinary Kitchen.
Cost Breakdown

$ Dollar value

Infrastructure

Produce & beverages

delivery staffing including Sioux chefs, FOH team, Kitchen washers, cleaners etc

$130,000

Talent Fees

$80,000

2 x full-time contractors from Sept 18 – Jan 2019

$82,000

Total expenses

$292,000

Less Revenue

$114,360

Total festival subsidy

$177,640
4.8.14. The total subsidy of The SMEG Culinary Kitchen to the festival was $177,000.
4.8.15. As this was the first this was the first year for The SMEG Culinary Kitchen, it is expected and anticipated that in the event the SMEG Culinary Kitchen proceeds in future years (and it absolutely should), that The SMEG Culinary Kitchen has the potential to break-even. As the brand of The SMEG Culinary Kitchen is strong with a loyal following, there is no foreseeable obstacle or risks in achieving this.
4.8.16. In addition to the ticketed program of events, three large-scale, free events for the public were programmed and delivered. This included an in-depth discussion on the future of Tasmanian wine, "The great Tasmanian Bake-Off" and "Pickle Me Party" that was a workshop instructing people how to pickle their home grown vegetables.
4.9. New Years' Eve (NYE)
4.9.1. For the Taste of Tasmania NYE event, a conscious effort to depart from the traditional model of The Taste festival where it has always been The Taste featuring a main-stage band, the NYE event became a speakeasy. Still utilising the three stages on-site, there was an emphasis on roaming entertainers such as big bands to engage and entertain the large volume of patrons that buy tickets along the waterfront.
4.9.2. Recognising that The Taste NYE event has showcased many great Australian artists over its 30 year history and that the budget for acquiring artists has not increased, a new "exclusive' "one time only" band was created. Featuring Tex Perkins, Lisa Miller, Mojo Juju, Monique Brumby and Ella Hooper along with Musical Director Barney McAll. Artists were given the opportunity to play some of their favourite hits such as Beyonce, Michael Jackson, Nina Simone and these hits were supported by a 10 piece big-band.
4.9.3. Supporting entertainment included Miss Burlesque Australia Zelia Rose, Circus strongman Gordo Ramsay and high profile performer Shep Huntly was the EmCee.
4.9.4. Tickets were available in The Atrium, Waterfront and for the first time a Premium ticket was sold in the space reserved for The SMEG Culinary Kitchen.
4.9.5. Ticket prices were $110 for seated areas in The Atrium and along the Waterfront. $75 for General Admission (GA) that didn't guarantee a seat. Premium tickets were $220. This ticket price offered patrons a grazing table and two x free drinks with use of their own exclusive bar. Furthermore, the Premium area had close proximity to the fireworks and exclusive viewing of the mainstage. The Premium area sold out within four weeks of being on-sale, showing that there is an audience who wants an all-in ticket.
4.9.6. A private event company were engaged to plan, organise and deliver the NYE Premium event including beverages and site dressings. A private catering company was further engaged to deliver the food offerings. Whilst the premium event had the framework in place, the event fell flat in the delivery, lacking ambience, co-ordination and organisation. Also, whilst it was clearly marketed that grazing tables (locally sourced cheeses, cured meats, breads, fruit and desserts) would be provided, many patrons expected a sit-down dining experience. Whilst no written complaints were received, this premium experience is unlikely to proceed again in future years unless additional funding can be sourced to resource experiences such as this.
4.9.7. NYE sold a total of 3,700 tickets and a total revenue of $330,000. When compared to the 2018 event where 4,888 tickets sold with a total revenue raised of $400,000 the results are lower. (But worth noting that 2019 results were an increase of 800 tickets on 2016 NYE events).
4.9.8. Despite the programming being the strongest that it has ever been and also despite every effort and energy being put into the marketing and PR of this NYE event, ticket sales did not meet box office targets of $400,000.
4.9.9. In 2018–19 approximately 1,800 tickets were sold on the day of NYE prior to the event. Historically, the Tasmanian audience has been slow to buy tickets, often the majority of tickets being sold in the days prior to the event. Whilst we remained hopeful that this would happen again, the waterfront precinct and surrounding businesses reported that NYE was very quiet. Tas Police reported zero arrests prior to midnight. Falls Festival also sold considerably less tickets in 2019. Although the visitors that attended the NYE event enjoyed their night, it was quiet onsite and stallholder comments and revenue further reflect this.
4.10. Music, Entertainment, Children & Family Programming
4.10.1. In 2018–19 the Music and Entertainment programming included street performers, roving entertainers, live music and action based stunts. It can best be described as 'High Vibrance' entertainment. The entire site of the festival was utilised as a performance space with the main stage, Atrium stage and Castray lawns stage being purpose built for live music.
4.10.2. The programming model was based on engaging 80% local entertainers, musicians whilst 20% were national. Where possible, emphasis was placed on Tasmanian artists living on the mainland. A new "house" band, '1988' was formed where artists from a variety of bands in the daily program came together, collaborating on their favourite power ballads from the year 1988 (the birth of The Taste festival). '1988' had a strong following at each performance and was considered a highlight of the music and entertainment program. Additionally, kids and families loved the unicorn hair studio, operating in 'greener grass'. This free salon allowed people to have their hair painted in vibrant colours and styled in a wondrous way.
4.10.3. Kids in the Park (KIP) previously located in Parliament Lawns was removed and instead, Children and Family programming integrated with the main program of music and entertainment; again this was spread out over the entire festival site.
4.10.4. In essence, the music and entertainment programming became very fluid and flexible due to moving acts to 'greener grass' and changes to Castray. Both efforts to direct traffic to these areas. Late schedule changes were communicated via large blackboard signage along with dedicated staffing on social media. Box Office and Information booths became the central point of information for relaying the entertainment taking place around the site.
4.11. Daily Reserved Seating
4.11.1. The amount of daily reserved seating was relocated to the rear of the Waterfront in 2018–19. It was further reduced from 166 seats to 92 seats. This was done to ensure that the seating area was operating at its optimum. Four sessions were available, daily. A three hour session cost $25. Overall, the first 3.5 days of the festival, the seating area operated at close to 100% capacity. The final 3.5 days when people have returned to work, the capacities were lower between 40-50%. Overall the daily reserved seating averaged 74% sales translating into $31,000 in revenue. It is recommended that this model continue in future years.
4.12. Stallholders
4.12.1. The 2018–19 Taste had the highest number of attending stallholders on record (113). For the first time, The Taste offered first-time stallholders an opportunity to participate for three or four days, as opposed to the full week long event. This initiative known as 'greener grass' increased the number of participating stallholders due to the dynamic and revolving concept. The number of stallholder's onsite at any one time was 105, an increase of 32 from 2017–18.
4.12.2. The increased number of stallholders was a conscious effort to increase the diversity of food and beverage offerings. A broad and diverse range of business types was representing including restaurants, wineries, breweries, distilleries and food producers. The most popular business type at the 2018–19 Taste were restaurants, cafes (including coffee roasters) and caterers. Wineries and breweries were next followed by distillers. Overall the food/alcohol balance was 65/35% respectively. A key driver of the festival food curation this year, focused on showcasing niche and unique offerings from smaller producers. This was largely possible because of 'greener grass'.
4.12.3. Whilst there is always commentary that there is too much alcohol, there is no avoiding the fact that Tasmania currently produces far more alcohol than it does food.
4.12.4. Understanding that there were more stallholders at The Taste in 2018–19 and that patrons attending The Taste celebrated the diversity and choice on offer, it did present far more competition for the stallholders.
4.12.5. Following the 2017–18 Taste, greater emphasis and discussion with the stallholders took place. A greater emphasis was placed on stallholders to revise and in some cases, simplify their offerings. The financial data indicates that new stallholders and/or stallholders that created exclusive offerings for The Taste festival generated large revenue. Other stallholders that kept their offering consistent with what they present at all other festivals, did not reap the financial benefits.
4.12.6. More than revenue being a primary motivator, it was encouraging to see many stallholders adopt 'big-picture' thinking where they leveraged the marketing vehicle that The Taste represents. The economic benefit study conducted by SGS discusses this in greater detail, however, many stallholders leveraged their business brand to enhance the year-round benefit of their business being involved in the festival.
4.13. Operational Changes for the 30th Anniversary including staffing
4.13.1. As noted in the report from Associate Director, City Economy Tourism and Events in January 2019 there have been and continue to be systematic resourcing issues inherent within the festival.
4.13.2. Taking into account learnings from the 2017 and previous events, having adequate resourcing in place was a priority for the 2018–19 festival. This meant dedicated resourcing needed to be in place for specialist areas such as Commercial Marketing, Sponsorship, Commercial Producers, an arts and entertainment Legal Advisor to support with overhauling commercial, stallholder and artist contracts.
4.13.3. It was intended that a Sponsorship Director would come on-board but due to the timing of the budget sign-off in 2018, it was not possible to engage a Sponsorship Director and expect them to succeed. Instead, the Festival Director led all conversations and negotiations until a Sponsorship Co-ordinator was engaged in October.
4.13.4. Understanding the large volume of changes made to the site and referencing past years, an additional Production Manager role was implemented in 2018–19. This role provided great relief to the existing team and ensured work hours and mental health were better managed.
4.13.5. Largely, The Taste team operated on a contractor model with 90% of the team placed on short term contracts of up to four months. Ideally, more time was needed, but again due to the budget being signed off in June and factoring in time to find the right skill set, contractors commenced in either September or October.
4.13.6. Many contractors worked remotely, and largely, this worked well. The exception to this was the Marketing Manager role. Although, it was hoped to find a local commercial marketing agency or individual in Hobart, it was challenging to find a marketing professional with commercial experience and/or who was available for a four month contract. Instead a Sydney based company was engaged in August. Due to the dynamic environment of the festival, the marketing manager does need to be based in the office.
4.13.7. A Senior Business Analyst role was introduced in 2018–19 to help relieve some of the pressure and workload volume from the Festival Director, however, due to the lengthy process within Council, this full-time position was advertised too late and did not engage adequate candidates. As such, the role was reverted to a four month contract due to time pressures. As this role was a contractor, many of the responsibilities assigned to this role, fell back with the Festival Director.
4.13.8. Whilst the resourcing for the 2018–19 festival was significantly improved, enabled due to the increased level of investment, earlier budget approvals are required to ensure the festival has the correct staffing in place. In 2018–19 the Festival Director worked the full-time equivalent of four roles. This proved challenging to be both strategic and hands-on; having the direct responsibilities of managing sponsorships, the commercial framework and programming elements of The SMEG Culinary Kitchen whilst also managing internal Council reporting process and a team of 28 people both locally and nationally. Pending the festival concept, The resourcing will be revised in 2019 to ensure more sustainable work practises, however, it's imperative to have the budget approved no later than mid-March to ensure planning can commence.
4.14. Sponsorship
4.14.1. Due to the fact that the Budget was approved and committed in June 2018 meant that it was not possible to engage a specialised Sponsorship Director. It further translated into limited opportunities on a national level as most businesses, organisations have committed their funding within the previous financial year.
4.14.2. The Festival Director commenced conversations early in February firstly with existing sponsors but then essentially cold called businesses both locally and nationally that would benefit from being involved with The Taste. Due to internal Council timelines, it is fair to say that sponsorships had previously been poorly managed with benefits that were inconsistent. This required the entire fundamental framework of sponsorships to be overhauled for the 2018–19 festival. Sponsorship contracts, sponsorship hierarchies and benefits were revised along with The festival's need to leverage more from our partners.
4.14.3. The Festival Director led all conversations and negotiations with the sponsors until November when a Sponsorship Co-ordinator was engaged to manage the relationships on a daily, operational level.
4.14.4. The Tasmanian Government, Forty Spotted Gin, Good Meat Australia and The Mercury Newspaper were engaged as Festival Partners, while Josef Chromy, Hartz, James Boags, Tas Foods Company, TasPorts, UTAS were engaged as Festival Supporters. The Taste of Tasmania further partnered with local charity Colony 47, working with them to fundraise across the festival.
4.14.5. Complementing the ticketed events in the SMEG culinary program, was a rigorous program of free events for the community that were programmed in accordance with new festival partnerships.
4.14.6. Good Meat Australia engaged Ben Milbourne who presented two live cooking demonstrations, daily on the forecourt. Additionally, in collaboration with The Mercury newspaper, Festival Director Brooke Webb and Assistant Editor and journalist, Amanda Ducker, created a program of three live-panel discussions. These three panel discussions were broadcast via The Mercury Facebook page and featured talent from the SMEG culinary program as well as engaging Tony Scherer (Sprout), Kim Seagrum (FermenTasmania), David Ball (Head Chef at The Glasshouse), Thea Webb (Taste team) and Trish Hodges from NITA. The panel discussions focused on three topics 'The Art of Sharing', 'Tradition' and 'Alchemy and Innovation'.
4.14.7. A total of $154,000 was generated in actual cash sponsorships. A total of $253,000 was the total value of both cash and in-kind sponsorships that included $80,000 in-kind support from the Tasmanian Government. Compared to 2017–18 where a total of $95,000 in cash sponsorships, this was a significant improvement but in order to maintain and grow this result, a dedicated Sponsorship Director with existing national relationships does need to be engaged.
4.14.8. Although this result is both positive and encouraging, the ability of the Festival Director to manage these key, important relationships is limited. Additionally, having the Festival Director manage sponsor relationships does also become a conflict of interest and an awkward relationship.
4.14.9. Sponsorships and Partnerships are a very important part of revenue fundraising and a very particular skill set that needs dedicated resourcing to implement this. Although it is a specialised skill set, it is recommended that a year round Sponsorship Director be engaged to recruit and manage partnerships. The Sponsorship Director can be engaged and work remotely.
5. Proposal and Implementation
5.1. This has been addressed throughout this report.
6. Strategic Planning and Policy Considerations
6.1. Responding to the need to develop a deeper understanding of the social and economic contributions the Taste of Tasmania (The Taste) provides, both during the event itself and throughout the entire year, The City of Hobart has commissioned an evaluation of the social and economic benefits of The Taste to the community, both locally (the City of Hobart local government area) and to the State of Tasmania.
6.2. As previously advised to the Council, the last economic impact assessment of the Taste was conducted in 2010/11. This report has been redistributed to elected members via the Council information website. The report from 2010/11 was based on an estimate of crowd attendance, not an actual count as was the case this year.
6.3. Based on an estimated crowd attendance of 250,000 that study noted that the combined direct and indirect impact of this expenditure at the Taste was an increase in output across Tasmania of $39 million. It also noted 294 full time part time and casual jobs were supported across Tasmania. The increase in Gross Regional Product for Tasmania was $16 Million.
6.4. In contrast, the 2018/19 report prepared by SGS Economics and Planning, uses visitor and stallholder surveys, case studies, background research and economic modelling to assess the social and economic benefits of the Taste for the Hobart LGA and Tasmania as a whole. The SGS report highlights the following:
6.4.1. The Taste directly leads to local and statewide economic stimulation from visitor spending at the festival. Tasmanians, interstate visitors and international tourists alike travel to the festival and spend money on locally grown, prepared or produced goods.
6.4.2. Council expenditure on developing, running and setting-up the festival also contributes to the economy. This direct spending not only benefits the stallholders and contractors directly but also the broader economy via flow-on impacts to suppliers of ingredients, equipment, cutlery and so on. Importantly, the Taste provides an important business development opportunity for many small Tasmanian producers and makers who would not otherwise be exposed to such a large and receptive customer market.
6.4.3. The stimulus generated by The Taste, with the flow-on effects incorporated, translates to a total combined (direct and indirect) economic impact estimated to have added $46.9 million to the Gross Regional Produce (GRP) of Tasmania supporting 451 equivalent jobs full time across the State. 57% of the value-added to GRP from The Taste is captured in the local City of Hobart economy.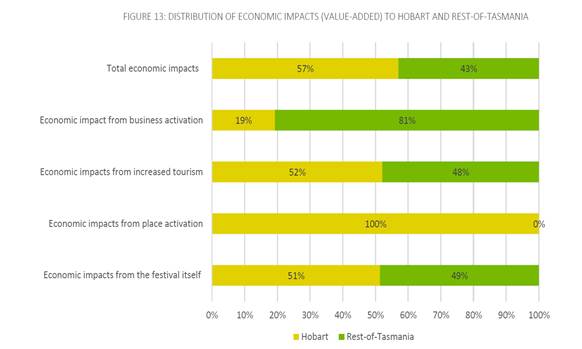 6.4.4. As a result of The Taste, $26.8 million is estimated to have been added to the local economy supporting 255 full-time equivalent jobs. The net cost of The Taste to the Council has averaged at $812,000 per annum over the last ten years, demonstrating without question a strong return of this investment to the community.
7. Financial Implications
7.1. In March 2018, as part of the Council processes, The Taste was advised that it was unlikely to receive the full budget allocation of $1.6 million due to the many competing demands on the Council's overall budget. The request was to submit a budget reflecting $1.2 million. In June 2018, the Council supported the motion to increase the level of investment by $400,000, resulting in a total net subsidy of $1,651,592.
7.2. The table below, compares the original 'proposed' budget of $1.2 million with the actual spend which was based on the revised budget amount of $1.651,592.
7.3. With regard to an increased state government investment in The Taste festival, discussions have commenced. However, at the time of writing this report a definitive answer has not been received.
Budget Code

Proposed $1.2 million budget 2018–19

Actual $1.6 million

2018/ 2019

Variance

Programming

$533,000.00

$956,416.00

423,416

Production

$1,492,178.00

$1,650,596.00

158,418

Marketing

$199,830.00

$208,920.00

9,090

Operations

$591,307.00

$551,919.00

-39,388

Expenses

$2,816,315.00

$3,367,851.00

551,536

Revenue

$1,565,000.00

$1,719,740.00

154,740

Net

-$1,251,315.00

-$1,648,111.00

approved net

-$1,651,592.00

current status

$3,481.00
7.4. The above table highlights where the increased investment of $400,000 was spent. Programming was the major area, followed by Production.
7.5. The below table more closely defines the programming budget and allocation of costs.
Budget Code

Proposed $1.2 million budget 2018–19

Actual $1.6 million

Variance

2018/ 2019

Programming

$533,000.00

$956,416.00

423,416

Contractors

$284,000.00

$691,000.00

407,000

artist fees - NYE, Kids & Family, Music & Entertainment

$220,000.00

Taste "core" team

$471,000.00

Stock Purchases - Retail

$90,000.00

$92,000.00

2,000

NYE Fireworks

$71,000.00

$71,000.00

0

External Labour charges

$65,000.00

$42,000.00

-23,000

Misc - cash handling, credit card fees, cleaning supplies

$23,000.00

$60,416.00

37,416
7.6. The above table details the programming budget reflecting the labour including the core Taste team of contractors who were required to bring the festival concept to life through the organisation, planning and delivery. Programming further includes the artist fee costs to engage musicians, street performers, children and family programming
7.7. The below table more closely defines the production budget and allocation
Budget Code

Proposed $1.2 million budget 2018–19

Actual $1.6 million

Variance

2018/ 2019

Production

$1,492,178.00

$1,650,596.00

158,418

Security

$129,878.00

$165,000.00

35,122

External labour hire

$162,000.00

$178,000.00

16,000

Delivery services

$42,000.00

$56,000.00

14,000

Contractors services - marquees / audio

$279,000.00

$325,000.00

46,000

Contractors services - cleaning/waste

$170,000.00

$210,000.00

40,000

Equipment - Dry Hire

$144,300.00

$135,000.00

-9,300

Building Hire

$100,000.00

$70,000.00

-30,000

Plumbing & Electrical

$70,000.00

$80,000.00

10,000

Wet Hire

$145,000.00

$155,000.00

10,000

Internal Charges

$100,000.00

$120,000.00

20,000

Miscellaneous - IT licenses, software, fuel, training, mananagement plans

$150,000.00

$156,596.00

6,596
7.8. The above table reflecting production expenses also highlights an increase. The increase from the proposed budget reflects additional infrastructure such as marquees as well as labour and staffing such as increased security and cleaning/waste staff.
7.9. Noting that all 'actual' expenses were contained within the approved parameters. When it was clear that revenue targets for NYE were not being met, the Festival Director in collaboration with the production manager and key staff, reduced expenses where possible to offset the net result.
7.10. The revenue line includes all the retail components as well as revenue gained through the increased revenue streams such as The SMEG Culinary Kitchen. Recognising that The Taste budget operates year round not just reflecting the festival, there is an additional $88,000 projected in revenue to accommodate the Dark MOFO sponsorship and their associated revenue hires. Whilst it is anticipated that this fee will be received in June, ahead of the new financial year, it is pending the actual equipment hire from Dark MOFO. At the time of writing this report, the sponsorship agreement with Dark LAB is under renegotiation. There is a medium risk that this projected revenue will not eventuate.
7.11. The current net result is $3,481 positive to budget.
7.12. Funding Source and Impact on Current Year Operating Result
7.12.1. This has been addressed throughout the report
7.13. Impact on Future Years' Financial Result
7.14. Officers have been consistent in recommending that the necessary budget for the Taste to remain a contemporary festival and relevant to our community needs to be $1.6m.
7.15. It is understood that Council may be more comfortable, when considering historical budgets for the Taste, that an amount of up to $1.2 million is the Council investment.
7.16. It is therefore proposed, depending on the level of state government grant, that the funding model could be:
7.16.1. $1.02 – $1.27 million direct Council investment.
7.16.2. $250,000 - $500,000 cash grant from the Tasmanian Government.
7.16.3. $80,000 PW1 hire fee waiver.
8. Asset Related Implications
8.1. None arise from this report.
9. Legal, Risk and Legislative Considerations
9.1. This has been addressed earlier in the report.
10. Environmental Considerations
10.1. There was no 'Taste of Tasmania Inspection Fee' charged to stallholders. This $150 fee was waived and absorbed by The Hobart City Council (COH) Environmental Health Office (EHO) Team.
10.2. The COH EHO team reported zero complaints from festival visitors regarding the food hygiene.
10.2.1. In 2018–19 The Taste festival engaged local business Veolia as the waste management company. The table, below details results from the past five years. Please refer to Attachment B that details the full breakdown of waste over the past 5 years.
| | |
| --- | --- |
| | Total waste in KG |
| 2018-2019 | 72900 |
| | |
| 2017-2018 | 69440 |
| | |
| 2016-2017 | 57400 |
| | |
| 2015-2016 | 58890 |
| | |
| 2014-2015 | 87050 |
| | |
| 2013 - 2014 | 72040 |
10.2.2. Despite having over 263,000 visitor attendance, the largest attendance at The Taste, the above total waste was considerably low. This highlights big improvements in reducing waste and reflects a very good outcome.
11. Social and Customer Considerations
11.1. Of particular note the SGS report details case studies with three stallholders from The Taste 2018–19 festival. Each stallholder discusses the immense benefits of being involved in The Taste festival not only for the duration of the festival but year round. Furthermore, the case studies reinforce the impact of participation on their business and sense of connection to the community. These are discussed in detail in the report, refer Attachment A.
11.2. In addition to the economic impacts, The Taste generates community and social benefits that are difficult to quantify from an economic perspective but are important nonetheless. There are three main benefits that have been identified:
11.2.1. Enhanced sense of belonging and pride:
The produce offered at The Taste helps "put Tasmania on the map" and contribute to a sense of identity and pride. The social benefits are strongly related to The Taste experience and the knowledge of place it generates.
11.2.2. Activation of the local community:
The Taste provides a centre point for activity in Hobart over the Christmas and New Year's period. The festival brings activity and excitement to Greater Hobart.
11.2.3. Social connectedness for the stallholder community:
The Taste also provides significant social benefits for the stallholders themselves. Fred Peacock, owner and winemaker of Bream Creek Wines notes that The Taste is the only annual opportunity for Tasmanian producers to socialise, collaborate and learn from one another. Nick Haddow of Bruny Island Cheese notes that The Taste "shows the community what can be done through food innovation and contributes to a healthier, more connected community".
12. PR, Media Communications & Marketing
12.1. For the Taste 30th Anniversary, a national campaign was orchestrated. This is in recognition that the interstate visitation has been steadily increasing since 2014 and over 30% of the audience attending The Taste are from Interstate. Another consideration for the national campaign was the increased number of tickets that were required to sell in the culinary kitchen program.
12.2. Cardinal Spin, a Sydney based PR and Communications agency were engaged to execute the PR, Media and Communications for The Taste festival.
12.3. It was a hugely successful campaign. 791 pieces of coverage achieved with a combined circulation reach of 243,479,287. The reach has been calculated by adding up the individual circulation of each piece of coverage that was secured for the festival.
12.4. The PR, Media and Communications campaign reached International media, largely in thanks to Culinary Queen, Martha Stewart attending the festival not once, but twice. More than this, Martha Stewart posted on her social channels promoting The Taste festival as a lively and vibrant food and beverage experience. This exposure was not only of huge value to The Taste festival but it was a fantastic support for the farmers, producers and stallholders.
12.5. The estimated digital advertising value of print, TV and radio, has been calculated at an Advertising Value Equivalent (AVE) of $4,714,352.00. This does not take into account the dedicated value of Print, TV and radio.
12.6. The incredible success of the media, PR and Communications campaign was a positive outcome not just for the brand of The Taste festival but exceptionally important for the sponsors involved and aligned with the festival.
12.7. Festival Director, Brooke Webb was the leading spokesperson for the Media, PR and Communications of The Taste. Other spokespeople included chefs, artists and local personalities, who were engaged to leverage their event and/or the festival.
12.8. There were three festival components considered integral to the marketing campaign; Food and Beverage, Free Music / Entertainment and promoting over 50 ticketed events within the program (The SMEG Culinary Kitchen, daily reserved seating and NYE). Combined with the overall objective of raising awareness and increasing attendance at The Taste of Tasmania across Australia and internationally with a focus on the domestic Tasmania audience.
12.9. The marketing campaign had three program launches, which was important to ensure clarity of the very dense program.
12.10. Social media was the key driver in the marketing campaign and The Taste channels (Facebook, Instagram) increased by 34% approximately six weeks prior to the festival. Social media became the most effective way of directly communicating with The Taste audience.
12.11. The positive response to the festival was largely evident on social media. So much so, that The Taste festival 'score' on both Trip Advisor and Facebook event pages (reflecting 70% of the festival audience) increased to 4 out of 5, increasing from 3.4 out of 5 – aligning The Taste festival with other contemporary festivals such as Dark MOFO.
12.12. The Graphic Design was outsourced to a local agency with mixed success, requiring additional support from multiple suppliers. Whilst the intention is to keep all business local, one of the challenges is the limited competition in Hobart/Tasmania. This translates into paying a higher price and despite agreed deadlines, there is no recourse if suppliers do not meet them. Future consideration will need to be given to national suppliers.
12.13. Largely, the introduction of The SMEG Culinary Kitchen and 'greener grass' implemented in 2018–19 had a massive effect in raising the awareness of The Taste brand, not only locally but especially to interstate audiences which was seen especially attractive for sponsors. This resulted in the majority of ticket sales for The SMEG Culinary Kitchen coming from Melbourne, Sydney followed by Queensland. Internationally, the strongest engagement on social media was from the USA, United Kingdom then Hong Kong.
12.14. The Tourism market was heavily targeted via a campaign in conjunction with Tourism Tasmania, Timeout Sydney and Melbourne, Tasmania Tourism and Information Centre, Inflight Magazines and via an extensive publicity campaign. A portion of the social media advertising campaign (including Google adverts) focused on the interstate markets, with a large engagement coming from Melbourne.
12.15. A comprehensive, attractive website was created and became a substantial standalone marketing piece that was crucial to the campaign, incorporating festival design with clear booking details and information on all events. Video's, music clips, event listings, strong imagery and social media plug-ins made this a sophisticated marketing piece.
12.16. On-the-ground, postcards, street banners, bus backs, street stencilling, cinema advertising and program brochures were handed out throughout various locations such as Salamanca Markets, Farm Gate Markets and in areas with dense foot traffic, such as Elizabeth Street Mall. Also, The Spirit of Tasmania also heavily supported The Taste festival by promoting the festival on their in-house TV.
13. Community and Stakeholder Engagement
13.1. Addressed earlier in this report.
14. Delegation
14.1. This is a matter for the Council.
As signatory to this report, I certify that, pursuant to Section 55(1) of the Local Government Act 1993, I hold no interest, as referred to in Section 49 of the Local Government Act 1993, in matters contained in this report.
Tim Short

Director Community Life

Brooke Webb

Festival Director - Taste of Tasmania
Date: 1 March 2019
File Reference: F19/21761
Attachment a: 2018-19 Social and Economic Benefits of The Taste of Tasmania - SGS Economics & Planning ⇩

Attachment b: The Taste of Tasmania Waste 2007-08 to 2018-19 ⇩