"That the City of Hobart notes that:
· March 8, as International Women's Day, is an important annual celebration of the economic, political and social achievements of women.
· International Women's Day is also an opportunity to reflect on the past accomplishments, as well as the particular challenges and discrimination that women and girls still face today due to their gender.
· The City of Hobart captured some of the achievements and stories of Hobart women in the "Women's History Walk Project" in 1997, which saw a women's walk and brochure created with 33 locations and stories.
And requests that the General Manager give consideration to:
· Refreshing and relaunching the Hobart Women's History Walk through actions that could include reprinting the brochure and transferring the walk locations into an app format.
· Considering ways to highlight the stories of Hobart women through the Urban Art Walls project or other public art initiatives."
Rationale:
"Hobart's Women's History Walk is important in celebrating the role women have played in the creation of modern Hobart. The Walk and its supporting brochure in Her Stride, provides a lasting reminder of how female personalities have shaped Hobart's history.
It also acknowledges the continued and important presence of Tasmanian Aboriginal women within our community.
The following excerpt is from in Her Stride (brochure attached):
"Within Hobart's rich history, women have often remained invisible. Identifying places is one way of tracing our fore-mothers footsteps. Those selected have been chosen to reflect the variety of women's experience. Some of the sites exist as they were, some can be seen behind modern facades, many others have been pulled down and built over.
This route is one of many possible walks. Taken in its entirety, it forms a loop which can be entered at any point. Alternatively, it can be divided into three routes: Macquarie Street, the Wharf/Wapping and City Centre."
A refresh and relaunch of Hobart's Women's History Walk and highlighting stories of Hobart women through public art would bring social benefits such as providing a sense of belonging and pride in the place people live, work or visit.
The stories about our past and the way that we tell those stories about those that have gone before us are important in creating the community that we live in today. By telling those in a creative way will ensure that current and future generations will not forget.
This notice of motion aligns strongly with the goals and outcomes of A Community Vision for our Island Capital, the City of Hobart Social Inclusion Strategy and Public Art Framework 2019."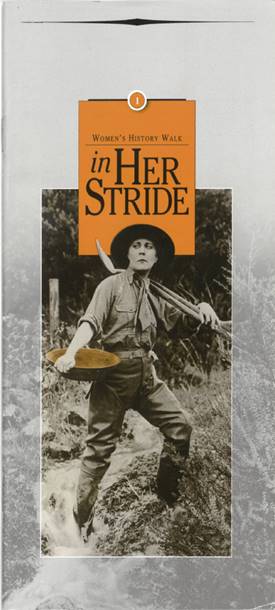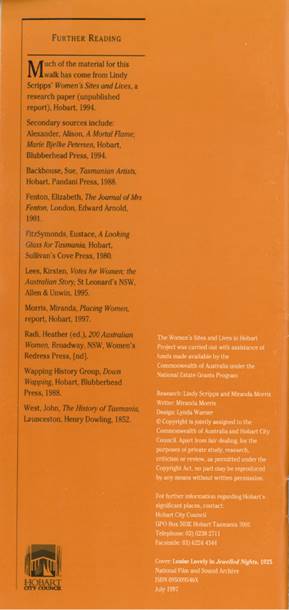 The General Manager reports:
"In accordance with clause 5 of the Notices of Motion procedures, I provide the following qualification as to whether the substance of this Notice of Motion resides within the jurisdiction of the Hobart City Council as it is in line with Council's Public Art Framework.
Heritage and Public Art teams can collaborate to review Hobart's Women's History Walk, investigating maintenance, repair and potential expansion of the project.
Consideration will also be given to exploring stories of Hobart's women through future public art projects."