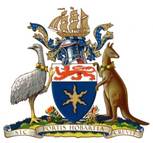 City of hobart
MINUTES
Special City Infrastructure Committee Meeting
Open Portion
Monday, 5 August 2019 at 4:54 pm
Minutes (Open Portion)

Special City Infrastructure Committee Meeting

Page 3

5/08/2019
Special City Infrastructure Committee Meeting (Open Portion) held on Monday, 5 August 2019 at 4:54 pm in the Lady Osborne Room.
COMMITTEE MEMBERS

Denison (Chairman)

Lord Mayor Reynolds

Zucco

Briscoe

Behrakis

PRESENT: Alderman T M Denison (Chairman), the Lord Mayor Councillor A M Reynolds, Aldermen M Zucco, J R Briscoe, S Behrakis, the Deputy Lord Mayor Councillor H Burnet, Aldermen Dr P T Sexton, D C Thomas, Councillors W F Harvey, M Dutta and H Ewin.

APOLOGIES: Nil.

LEAVE OF ABSENCE: Nil.

NON-MEMBERS

Deputy Lord Mayor Burnet

Sexton

Thomas

Harvey

Dutta

Ewin

Sherlock
Ref: Part 2, Regulation 8(7) of the Local Government (Meeting Procedures) Regulations 2015.
Members of the Committee are requested to indicate where they may have any pecuniary or conflicts of interest in respect to any matter appearing on the agenda, or any supplementary item to the agenda, which the Committee has resolved to deal with.
No interest was indicated.
OR
Regulation 15 of the Local Government (Meeting Procedures) Regulations 2015.
A Committee may close a part of a meeting to the public where a matter to be discussed falls within 15(2) of the above regulations.
In the event that the committee transfer an item to the closed portion, the reasons for doing so should be stated.
Are there any items which should be transferred from this agenda to the closed portion of the agenda, or from the closed to the open portion of the agenda?
No items were transferred.
4.1 Melville Street (Between Elizabeth Street and Argyle Street) - Partial Road Closure
BRISCOE
That the recommendation contained in the report of the Manager Traffic Engineering and the Director City Planning of 1 August 2019, be adopted.
MOTION CARRIED
VOTING RECORD
| | |
| --- | --- |
| AYES | NOES |
| Denison | |
| Lord Mayor Reynolds | |
| Zucco | |
| Briscoe | |
| Behrakis | |
COMMITTEE RESOLUTION:
That the General Manager be authorised to permit a temporary one‑way eastbound traffic arrangement in Melville Street (between Elizabeth Street and Argyle Street) to facilitate development works at 40‑42 and 44 Melville Street, Hobart.
Delegation: Council
There being no further business the meeting closed at 4:56 pm.
TAKEN AS READ AND SIGNED AS A CORRECT RECORD THIS
21st DAY OF AUGUST 2019.