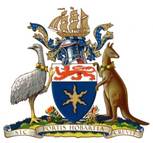 City of hobart
MINUTES
Special City Infrastructure Committee Meeting
Open Portion
Monday, 19 March 2018 at 4:22 pm
Minutes (Open Portion)

Special City Infrastructure Committee Meeting

Page 3

19/03/2018
Special City Infrastructure Committee Meeting (Open Portion) held on Monday, 19 March 2018 at 4:22 pm in the Lady Osborne Room, Town Hall.
COMMITTEE MEMBERS

Burnet (Chairman)

Deputy Lord Mayor Christie

Reynolds

Denison

Harvey

PRESENT: Alderman H C Burnet (Chairman), the Deputy Lord Mayor Alderman R G Christie, Aldermen A M Reynolds, T M Denison, W F Harvey, the Lord Mayor Alderman S L Hickey and P S Cocker.

APOLOGIES: Nil.

LEAVE OF ABSENCE: Nil.

ALDERMEN

Lord Mayor Hickey

Zucco

Briscoe

Ruzicka

Sexton

Cocker

Thomas
Ref: Part 2, Regulation 8(7) of the Local Government (Meeting Procedures) Regulations 2015.
Aldermen are requested to indicate where they may have any pecuniary or conflicts of interest in respect to any matter appearing on the agenda, or any supplementary item to the agenda, which the committee has resolved to deal with.
No interest was indicated.
Regulation 15 of the Local Government (Meeting Procedures) Regulations 2015.
A committee may close a part of a meeting to the public where a matter to be discussed falls within 15(2) of the above regulations.
In the event that the committee transfer an item to the closed portion, the reasons for doing so should be stated.
Are there any items which should be transferred from this agenda to the closed portion of the agenda, or from the closed to the open portion of the agenda?
No items were transferred.
4.1 Campbell Street, Hobart - Proposed Road Closure to Support Redevelopment of the Royal Hobart Hospital
HARVEY
That the recommendation contained in the report of the Manager Traffic Engineering and the Director City Infrastructure of 16 March 2018, be adopted, as amended by the following:
That the word September following the number 14 and the word October following the number 29 in clause 1, be substituted with the word April.
MOTION CARRIED
VOTING RECORD
| | |
| --- | --- |
| AYES | NOES |
| Burnet | |
| Deputy Lord Mayor Christie | |
| Reynolds | |
| Denison | |
| Harvey | |
COMMITTEE RESOLUTION:
That: 1. The Council provide conditional in-principle approval for the developer of the Royal Hobart Hospital site to implement a road closure in Campbell Street (between Liverpool Street and Collins Street) from Saturday 14 April 2018 until Sunday 29 April 2018.
2. This approval be subject to the following conditions:
2.1. A communications plan be prepared and implemented by the permit holder to ensure that the broader community and the occupiers of the adjacent properties are aware of the road closure.
2.2. Applications for traffic management permits and road closures be received and detailed traffic management plans being submitted to the satisfaction of the General Manager's nominee.
2.3. Access for buses, emergency vehicles and bicycles be provided.
3. The General Manager be authorised to modify and/or withdraw the approval.
4. The developer be advised of the Council's decision.
Delegation: Council
There being no further business the meeting closed at 4:26 pm.
TAKEN AS READ AND SIGNED AS A CORRECT RECORD THIS
26th DAY OF APRIL 2018.