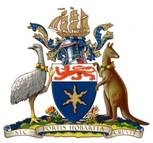 City of hobart
AGENDA
Council Meeting
Open Portion
Monday, 5 February 2018
at 5:00 pm
Council Chamber, Town Hall
SUPPLEMENTARY ITEM
ORDER OF BUSINESS
Economic Development & Communications Committee
Supplementary Agenda (Open Portion)

Council Meeting

Page 2

5/2/2018
The General Manager reports:
"That in accordance with the provisions of Part 2 Regulation 8(6) of the Local Government (Meeting Procedures) Regulations 2015, these supplementary matters are submitted for the consideration of the Committee.
Pursuant to Regulation 8(6), I report that:
(a) information in relation to the matter was provided subsequent to the distribution of the agenda;
(b) the matter is regarded as urgent; and
(c) advice is provided pursuant to Section 65 of the Act."
Supplementary Agenda (Open Portion)

Council Meeting

Page 3

5/2/2018
17. Goodwill Agreement - North Melbourne Football Club
Ref: Open EDCC 4.1, 5/02/2018
A recommendation will be submitted to the meeting.