That a report be provided to review Council's current policy on plaques secured / affixed to infrastructure.
Rationale:
"Plaques are important in celebrating the achievements of a community and its members, as well as providing historical context for current and future generations and serving as memorials.
The recommendations would need to be costed in such a way, for example, that a durable seat with a plaque would be cost neutral to the Council and that only the on-going maintenance would be borne by the Council.
There is great social and economic benefit to be realised through public investment in Council infrastructure. The social benefit is that an individual, family or group have a sense of belonging and pride in the place they live, work or visit and a physical asset is a tangible way of commemorating a person or an event. The economic value is realised by Council through a reduction in costs associated with purchasing infrastructure.
For the purposes of this motion, the following definition applies for a plaque:
A flat tablet of metal which includes text and/or images which commemorate an event or a person and/or provide historical or other information relevant to its location. Such a tablet is attached to an object, building or pavement.
This notice of motion is aligned with the Capital City Strategic Plan 2015-2025:
Goal 4 – Strong, Safe and Healthy Communities.
4.1 Community connectedness and participation realises the cultural and social potential of the community.
It is considered that the report would:
1. Consider the community benefit for plaques to be used for commemorations and celebrations throughout the City.
2. Address the application process and the commissioning of a standardised plaque to be used in a variety of ways, including the recognition of loved ones; the celebration of a person, event; a gift to the City which celebrates their connection and love of the City. The plaque would be attached to the backrest of an existing or new seat; park bench; gym equipment; barbeques; planting of trees; picnic furniture; shelters; playgroup equipment, etc.
3. Consider the sensitivity required through the management of memorials in managing the expectations of the next of kin and provide a 'customer focussed' notification process should a memorial be damaged, replaced or displaced through redevelopment of an associated site.
4. Explore the opportunity for corporate investment to assist with the provision of the City's recreational infrastructure where a corporation wishes to commemorate its contribution to the Hobart community by donating such infrastructure and having a plaque to recognise the donation.
5. Review local, national and international government policies and identify guidelines to ensure the wording on the plaques is positive and uplifting to effectively commemorate of the individual, event or donation involved. (See images attached).
6. Consider the introduction of the policy detailed above on the basis that the provision of the infrastructure and plaques will be at no cost to the City."
Images below is examples of plaques that have been installed in Vancouver, Canada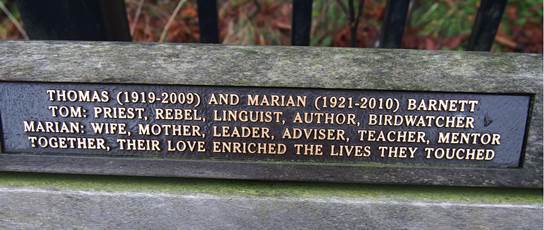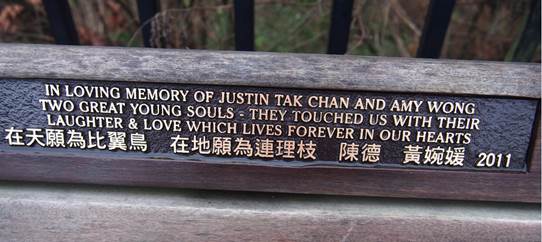 The General Manager reports:
"In line with the Council's policy in relation to Notices of Motion, I advise that the matter is considered to be within the jurisdiction of the Hobart City Council as it considers a review of the Council's policy titled Memorial Plaques and Tree Planting in Parks, Bushland and Reserves."