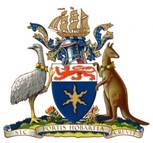 City of hobart
AGENDA
Council Meeting
Open Portion
Monday, 5 December 2016
at 5:00 pm
Council Chamber, Town Hall
RECOMMENDATIONS UNDER SEPARATE COVER
ORDER OF BUSINESS
Economic Development & Communications Committee
11 Potential Relationships Between the City of Hobart and Cities in the Asia Pacific Region. 2
12 City Centre Support and Activation Arrangements. 2
13 Review of the Inaugural Antarctic Festival 2016 and the Annual Opening of the Antarctic Season Reception. 3
11. Potential Relationships Between the City of Hobart and Cities in the Asia Pacific Region
Ref: Open EDCC 6.1, 1/12/2016
That Council officers further investigate a community development based relationship with Timor Leste and a further report be provided outlining the steps to progress such a relationship.
12. City Centre Support and Activation Arrangements
File Ref: F16/113743; 16/135
Ref: Open EDCC 6.2, 1/12/2016
That: 1. A Super Sidewalk Saturday event be held in the Hobart city centre in August 2017 and 2018 replicating the format of the 2016 event.
2. The events be funded in the first instance by additional allocations as follows:
(i) $76,000 be listed for consideration in the City Marketing Function as part of the preparation of the 2017/2018 budget;
(ii) An estimated $12,000 through income foregone in the Off Street Parking Function as a result of waiving parking fees in the Council's multi-storey car parks for the day of the event, namely, Argyle Street, Hobart Central and Centrepoint car parks.
3. An annual evaluation be conducted to ensure that the event continues to deliver value for city centre retailers and that the entertainment and format remains an effective drawcard for consumers.
13. Review of the Inaugural Antarctic Festival 2016 and the Annual Opening of the Antarctic Season Reception
Ref: Open EDCC 6.3, 1/12/2016
That: 1. The organisers of subsequent Antarctic Festivals be advised that in line with Council policy titled Applications for Grants – Community Development, funding for future festivals must be sought through either the City of Hobart Events Grants or the Event Partnership Programs.
2. Council continue to support the staging of the annual Opening of the Antarctic Season Reception for 150 attendees, and 10 international marine science students, at a cost of approximately $7,500, to be funded from the Economic Development Function in the 2016/2017 Annual Plan.