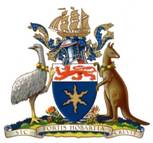 City of hobart
MINUTES
Special Parks and Recreation Committee Meeting
Open Portion
Monday, 25 July 2016
Minutes (Open Portion)

Special Parks and Recreation Committee Meeting

Page 4

25/07/2016
Special Parks and Recreation Committee Meeting (Open Portion) held on Monday, 25 July 2016 at 4.20 pm in the Lady Osborne Room, Town Hall.
COMMITTEE MEMBERS

Reynolds (Chairman)

Briscoe

Ruzicka

Sexton

Harvey

ALDERMEN

Lord Mayor Hickey

Deputy Lord Mayor Christie

Zucco

Burnet

Cocker

Thomas

Denison

Apologies: Nil.

Leave of Absence: Nil.

Present: Alderman A M Reynolds (Chairman), Aldermen J R Briscoe, E R Ruzicka, P T Sexton, W F Harvey, M Zucco and H C Burnet.



Aldermen Harvey, Zucco and Burnet arrived at 4.22 pm and were not present for items 1 – 2.
There were no Aldermen co-opted to the Committee.
Ref: Part 2, Regulation 8(7) of the Local Government (Meeting Procedures) Regulations 2015.
Aldermen are requested to indicate where they may have any pecuniary or conflicts of interest in respect to any matter appearing on the agenda, or any supplementary item to the agenda, which the committee has resolved to deal with.
No interest was indicated
The following items were discussed:-
Item No. 1 Item No. 3 Indications of pecuniary and conflicts of interest
Item No. 2 The Springs, Mount Wellington – Development Application
LG(MP)R 15(2)(c)(i)
Sexton
That the items be received and noted.
MOTION CARRIED
VOTING RECORD
| | |
| --- | --- |
| AYES | NOES |
| Reynolds | |
| Briscoe | |
| Ruzicka | |
| Sexton | |
| Harvey | |
COMMITTEE RESOLUTION:
That the items be noted.
Delegation: Committee
The Chairman adjourned the meeting at 4.20 pm to conduct the closed portion of the meeting.
The meeting reconvened at 4.22 pm.
Item 3 was then taken.
There being no further business the meeting closed at 4.22.
TAKEN AS READ AND SIGNED AS A CORRECT RECORD THIS
11th DAY OF August 2016.